Whether you're operating a busy construction site or a roadside maintenance job site, you need to ensure staff and visitors have ready access to appropriate toilet and sanitation facilities. One way you can do this is with a welfare tank or welfare unit.
You may not be immediately familiar with what welfare tanks are or how they can help your business fulfil its sanitation and hospitality needs to its workers. In this case, keep reading to learn more about what they are, who they're used by, and how Thistle Tanks can assist with professional welfare tank emptying.
Everything You Need To Know About A Welfare Unit
Welfare units, also known as welfare tanks are essentially mobile sanitation facilities that provide toilet services and hospitality areas to people working on construction sites, visiting roadside cafes or canteens, or using shower cabins.
A welfare tank may be most commonly used by people who work in industrial settings, like those who work at quarries, highway maintenance workers, or builders and tradespeople in general. Though these are the most common industries where welfare units are used, they can be used elsewhere due to their versatility.
You may find a welfare tank at a festival or a development site, with many different sizes available, including six-man cabins and more.
Welfare units generally act as temporary toilet and shower facilities, and breakout/canteen areas, to those working away from brick-and-mortar facilities. They're an essential facet that can see a lot of use, so it's vital that they're emptied regularly to avoid blockages and maintain good hygiene for those who are using them.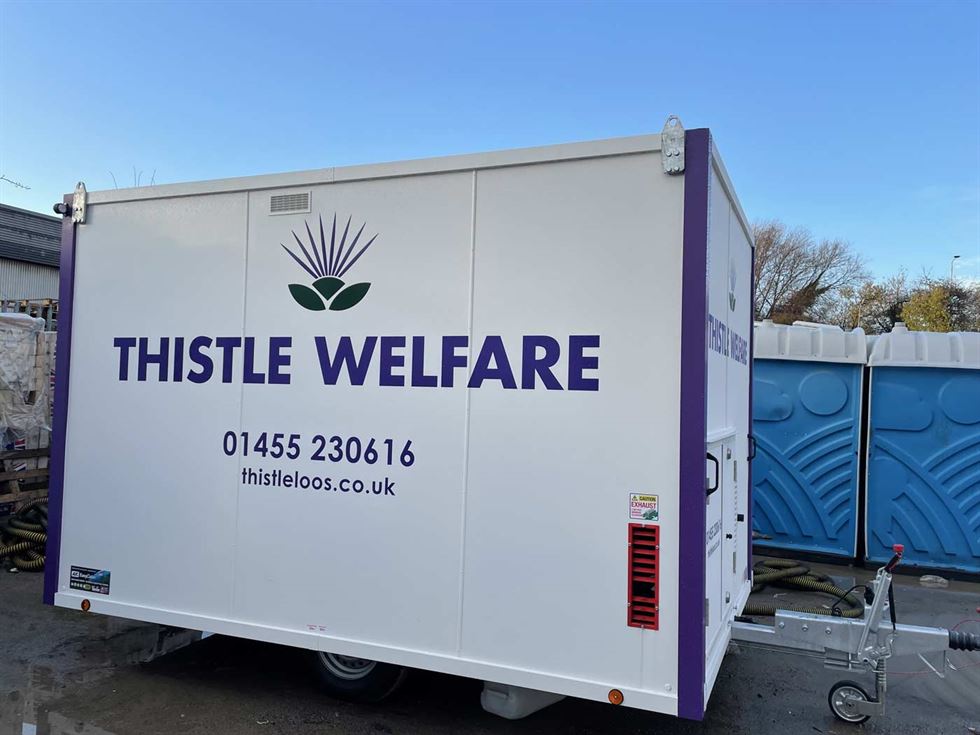 How Do You Empty A Welfare Unit?
The waste captured inside welfare tanks can be hazardous and needs to be properly disposed of in order to ensure proper safety measures and legalities are followed. If not, you risk breaching legislation surrounding waste disposal, and you could even experience issues with your welfare unit.
At Thistle Tanks, we have been carrying out welfare tank emptying for more than 25 years. We operate some of the most high-performance vacuum tankers that can collect and dispose of welfare unit waste quickly and easily.
Due to the nature of welfare tanks, we understand it may not always be convenient to empty an onsite welfare tank in the middle of the day. That's why we offer a flexible service whereby we can empty your unit at a time that suits you, be it in the morning or after your workers have gone home.
As part of our flexible service, we can also provide next-day welfare unit emptying if this is something you require. We offer a fast quote service with some of the best rates on the market.
We have a complex understanding of the law surrounding waste removal, so you can rest assured that we will remove your waste and dispose of it ethically and sustainably at a licensed and authorised disposal site.
If you have a welfare tank, be it a temporary one for a festival or a long-term one for a lengthy construction job, Thistle Tanks is on hand to help you dispose of the waste and ensure smooth running. Call us on 01455 413661 or head over to our contact page for more details.